Our Ciders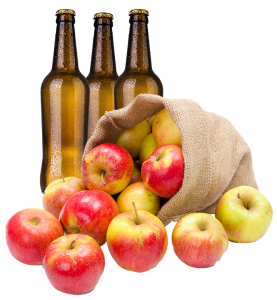 Here at JORK Cider all of our ciders are fermented in the ancient traditions of the Irish monks. With records going as far back as the 12th century, the Irish monks had many years to perfect their craft. We haven't has quite so many years at it, but we do know that a careful blending of the sharp cider apples with the bittersharps, bittersweets and sweet apples will produce a full-bodied cider that is bursting with flavour.
Now centuries later the skilled cider-makers at JORK Cider are following our Irish monks traditions, crafting delicious ciders for you to enjoy.
We select a blend of apples from Altesland in Hamburg; like the aromatic sweet Delba, or the juicy sour tasting Glosten. Mixing these German dessert apples with cider apples from Normandy in France, and fermenting very slowly in oak vats, retains those delicate aromas, producing the mouth-watering JORK Ciders.
The art of a making a well crafted cider is to know when to stop the fermentation process, before all of the sugar is consumed. The cider is then siphoned off into new vats leaving all the nasty stuff behind. This final fermentation stage creates a small amount of carbonation which gives our ciders their sparkle.
If is at this final fermentation stage that we add complimentary flavours to create our seasonal ciders like Finnegan's Raspberry Cider and Finnegan's Rhubarb Cider.
Our 100% apple juice ciders can vary slightly with each batch produced, this is because, unlike mass produced ciders, JORK Cider always uses fresh fruit which of course is at the mercy of the weather. As all craft beer and cider lovers know, this is what makes it special.
Our current range of ciders available all year round are:-
JKK JORK Cider Original Sin Cider
JKK JORK Cider Medium Dry Cider
Finnegan's Harvest Gold Cider
Our seasonal ciders are:-
Finnegan's Raspberry Cider
Finnegan's Rhubarb Cider
Finnegan's Bourbon Matured Cider
As JORK Cider matures we will continue to bring you more amazing cider combinations to tempt the taste-buds of every discerning cider drinker.
If all this talk of cider has made you thirsty, why not call in to one of our stockists and try one of our ciders for yourself?



Get in touch
If you're a bar owner and want to add JORK Cider hand crafted ciders to your range of drinks, get in touch today!
Contact Us